Rekey Columbia, MD – Locksmith Service Columbia MD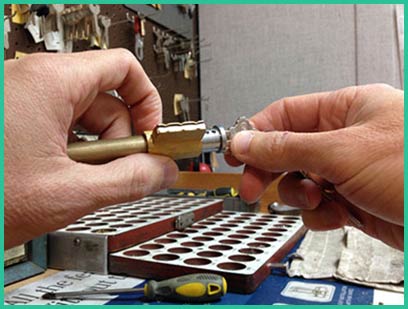 You have one lock, but you certainly don't have one key to it! It's common to make a few copies of your key and hand it over to people you trust. From dropping a key at your neighbor's to prove useful in case of a lockout to entrusting them to people who need access to your home while you're away such as the babysitter or the gardener, handing out keys out is nothing out of the ordinary. But what if you've just had a fall out and are no longer in good terms with the person you once handed your keys to? What if a fired worker or an evicted tenant exploits the opportunity and uses it to gain access? That's why, when you're suspicious that you've lost key control or find that you've lost a key, you need to call Locksmith Service Columbia MD to rekey the locks.
What is rekeying?
The rekey procedure is carried out by removing the internal pins and tumblers of a lock and replacing it with a new configuration so that the old key doesn't operate the lock, rather it needs a new key aligned with the configuration. While it may look as if it were the same lock, on the inside, it's completely renewed and any of the old keys still in circulation will not fit anymore.
Advantages of rekeying locks:
Cost benefits:
Opting for a lock rekey is quite cost-efficient. How, you ask? New locks are generally pricier, and if you need to ensure none of the areas in your premises are accessible, you need to change locks everywhere. Rekeying, on the other end, is quite cost effective as it does not entail replacement of the whole lock.
Enhances your current locks
Since the rekey procedure involves altering the entire internal mechanism, the lock is lubricated and refitted in the process, thus allowing it to operate without a hitch. Also, any minor operational issues can be caught by the technician when dismantled and resolved.
Rekey to master key system for better security
Yes, key control goes a long way in redefining your security, but did you know, that a rekey procedure can be more than that? Rekeying to a master key system will allow you setup differential access in your property and restrict access to certain areas, thus giving you greater access control.
Always keep a tab on your keys! If you've lost track on them, then you need to rekey locks right away to ensure there are no security lapses! Call 410-874-9022 to avail rekeying services in Columbia, MD area!